Oooh, I'm in a book. Well, not me, because a 6'4″ book would be a bit unwieldy. But I have a chapter in Daniel Hooper & Natasha Hashimoto's book, Teacher Narratives from the Eikaiwa Classroom: Moving Beyond "McEnglish", which is published by Candlin & Mynard as an ebook and on actual paper. I think the book is very reasonably priced and I know that several chapters are actually brill. You can buy it from Smashwords as an ebook and Jeff Bezos' shop in your favoured territory, and probably other places.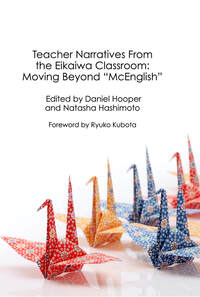 Summary
The chapter started life as an offhand comment at a conference that all in attendance were freaks who wanted to attend a conference on their day off from work. In the chapter, I puzzle about how I got from fresh off the plane English instructor at a chain language school in Tokyo, with no experience, to where I am now and pontificating at conferences, in print and on this blog.
There's a lot of trial and error, basically due to rushed on-the-job training. The only winner here is the company owner. Teachers are stressed and students are annoyed. Eventually I learned through incidental observation through makeshift plexiglass cubicles and talking to colleagues. However, we all have basically the same training, so there's an argument to be made that teaching in language schools is made into menial work. The incentive at the companies I worked for to have any teaching qualifications was Y5,000 per month, which is not great, especially seeing as you got it whether you had a certificate, a diploma, or a master's degree.
Any formal guidance given in the language schools I worked at was by managers, who rarely had any teaching qualifications themselves. This was also geared more to customer satisfaction/retention than sound pedagogy. Also, due to the lack of training that the managers had, they were going off beliefs and instinct.
So, the formal observations could be less useful than the informal, incidental ones. Also, not only seeing 'good' lessons helps; seeing 'bad' helps you to take a reality check and think about whether or not something is a good idea.
The chapter goes into theory a lot more than I have done here, but hopefully this gives you a taste.