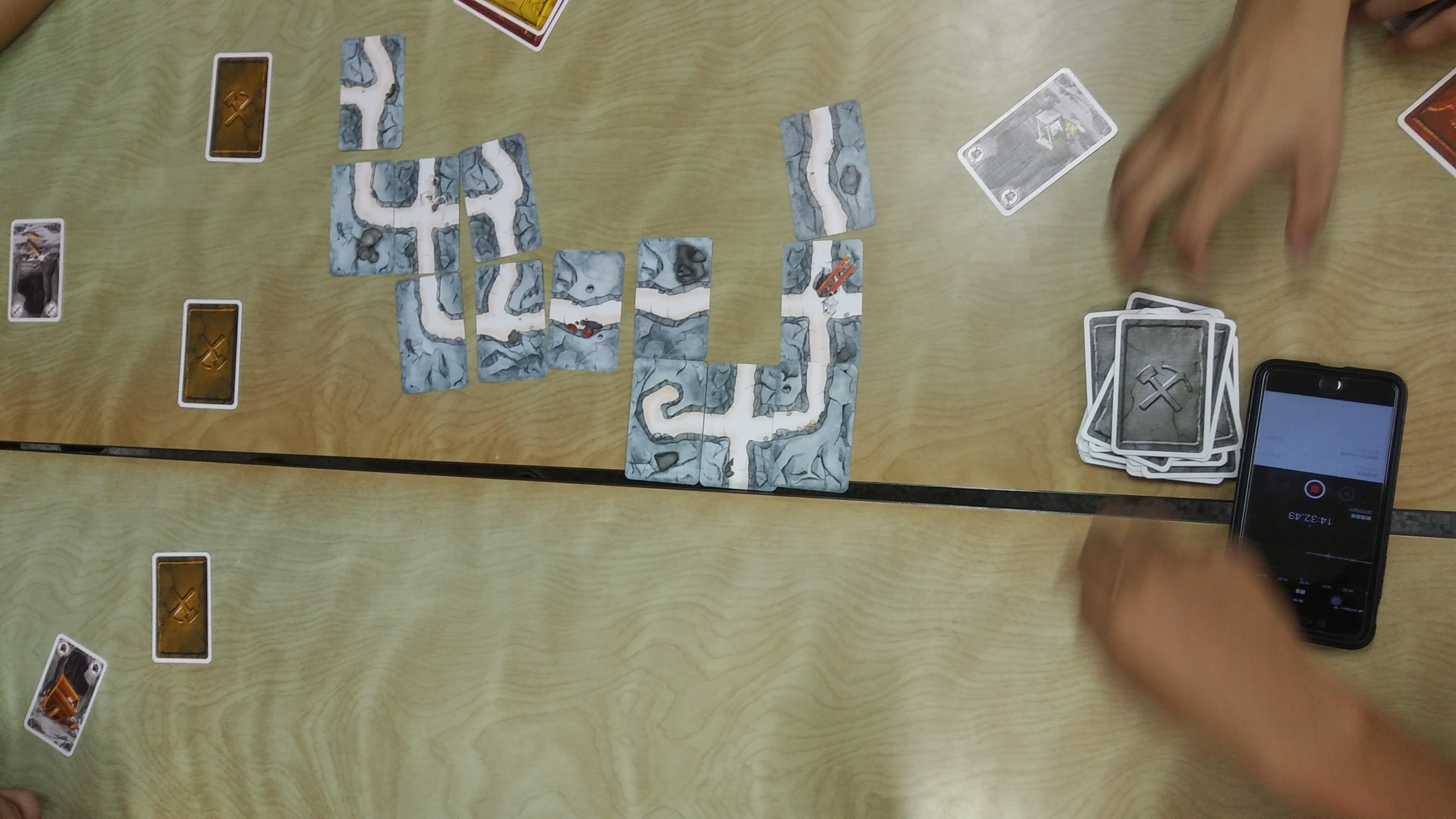 I've been using Saboteur with an adapted Kotoba Rollers framework by James York with my university classes. I want talking with authentic tasks, which games provide. There is also transcription of language used. It isn't all fun and games though.
In the game, players are either good, hardworking miners or saboteurs. None of the players know the roles of the others but they hardworking miners need to work together to get the gold. The saboteurs need to ensure the pack of cards is exhausted before the treasure cards are reached. There are also action cards such as breaking tools, fixing tools, causing rock falls and checking maps for gold, which may lead to cooperation or subterfuge.
The published rules are a bit tricky to understand. I had set the reading for homework, figuring that if there were a lot of difficulties the students would use dictionaries or Google Translate. This means my students skim read them superficially and did not bother to understand the rules fully before game play. Dictionaries and Google barely got looked at.
However, the rules needed a bit of clarification. This led to some good negotiation of meaning (Long, 1983). There are cards used to destroy the mine path above or break other players' tools but they weren't always easily understood.
The transcription is the main part I changed. I ask students to write three parts.
What did your partner say? Did they say it differently to how you would say it? How would you say it?
This has been done pretty well and is usually the best part of my RPG-based classes' sheets, too.
What communication problems did you have? Why?
This sometimes ends up being a wishy-washy "I need to speak more fluently" but a lot of my students have gone a bit deeper.
If you spoke Japanese, what did you say? How can you say it in English?
This has an obvious function but students do sometimes half-arse it and just use Google Translate one way without checking the translation in a (monolingual) dictionary or Skell.
Still the work got done and there was another game of Saboteur in the following lesson to review. I was satisfied with this little Kotoba Rollers cycle, and so were my students, though I needed to buy 4 lots of the game for my big class.
References
Long, M. (1983) Native speaker/non-native speaker conversation and the negotiation of comprehensible input1. Applied Linguistics, 4 (2) pp. 126–141.